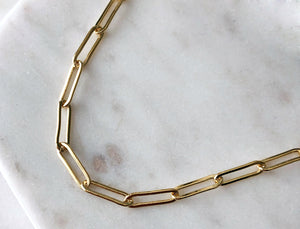 14K gold-filled Strut Jewelry large flat link connection chain necklace. 
*Gold filled jewelry is much more durable than gold plated jewelry. The 14k Gold filled jewelry in this collection is composed of a base metal (brass) bonded with a layer of 14k gold over top. It contains 5% gold of the items weight. Even with daily wear, could last 10 to 30 years before exposing the metal underneath. The gold layer is 5 to 10 times thicker than an item with regular gold plating, and 15 to 25 times thicker than an electroplated piece.
link measurement: approx. 12.8mm x 3.8mm
chain length varies
*please contact us for alternate stone and metal options

Strut necklace
Love my new strut necklace. It's a contemporary piece that I can dress up or dress down. It's lightweight and timeless.
Thanks for the great feedback Jackie! We love this peice as well :)
Sincerely,
The Concept Team