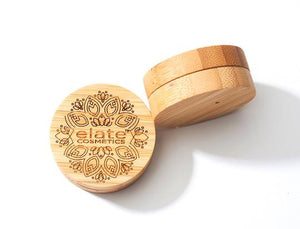 With sustainability at the forefront of everything Elate dose, they are eliminating waste by embracing minor flaws and giving these bamboo palettes the love they deserve. This compact may have minor cosmetic damage, which may include: scratches, chips, or misprinted logos.
This compact holds a single eyeshadow, Brow Balm, or Creme Revealer concealer.
SKU :  SMALL EYE COLOR COMPACT
 E

late palettes are made of water treated bamboo and will fit any magnetic pans.
*Due to the fact that we are a small brick and mortar style boutique, product quantities may vary. What this means is that items may be in the process of being sold at the same time you are making your online selection. If the item you have purchased is no longer in stock, we will contact you to either help you choose an alternative, place your selection on back order or refund your purchase entirely.

Please feel free to contact us directly for any product questions.
carmen@conceptjewelry.ca  or  780-458-4660