Why choose ordinary when you can have EXTRAORDINARY!
Haven't found precisely what you are looking for? With over 35 years of experience in the jewelry industry, we have the expertise and depth of knowledge to help you create a piece that is truly unique and fits you're your own personal lifestyle.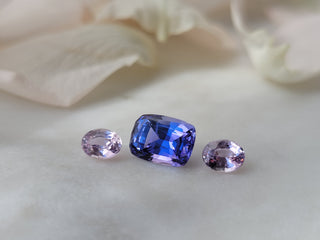 The Concept
It starts with a relaxed, no obligation consultation in our beautiful boutique.  You may have a very clear idea of your design or you may wish to browse the styles and designs we have on display in our showroom or in our historical files to gain inspiration. Our Concept team is happy to guide as much or as little as you need until a clear understanding of your desires are reached.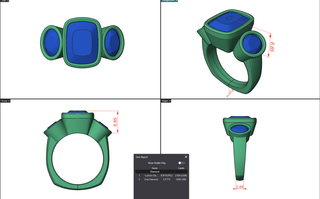 The Budget
After the initial consultation, we will follow up with an estimated cost for the design and any technical recommendations from the goldsmithing team. Follow-up consultations may be needed to confirm details.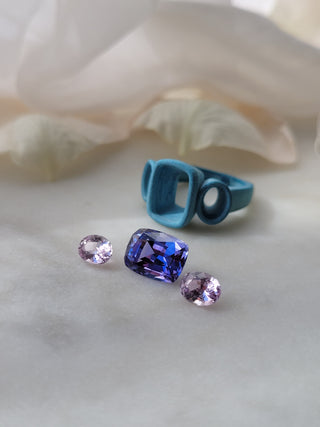 The Design
If the piece requires gemstones, we will offer you an instore consultation to view a selection of loose stones, to pick your favourite in every way. We work in platinum, yellow, rose and white and palladium white gold and have sources in the full range of natural gemstones.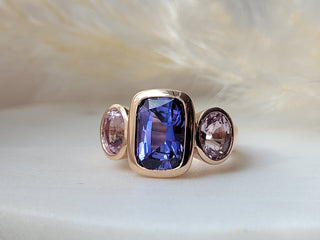 The Craft
We use many different designing and manufacturing techniques. With most of our designs we start with a sketch in order to provide you with a quote. Once the quote is approved we require a 50% deposit. Within the next few weeks, we will then provide you with a CAD (computer aided design)visual representation of your design concept. At this point, changes to the design are at no additional cost.  If you would like, we can also show you the wax model for final approval. If changes are required after seeing the model, then an additional cost will be necessary to grow the new wax model of $150. Once the design is confirmed our highly-skilled goldsmith team, handcraft your unique Concept piece.
Redesign
Wondering what to do with pieces you have that you no longer wear?  Have you inherited jewelry that is sentimental but just not your style?
We are here to help! One of our favorite things to do it help breath new like into dated jewelry. We will reset most any of your existing gemstones into new custom designs and provide you with a "scrap gold" value for your metals at their refined value. This credit value can then be used towards your new creation. Simply book an appointment with our team and then bring all the pieces you have to assess what would be best to work with. We will then discuss options, present ideas and you advise the best designs we feel best fit you lifestyle while getting the most out of your pieces.
"Concept jewelry design was a pleasure to work with. We fell in love with a ring we found on Pinterest and Carmen took all the time in the world to find us the perfect diamond and bring the photographed ring to life for us. I get so many compliments on the workmanship of my ring. Not only did she bring our vision to life but she also went above and beyond with my now husband, helping him plan his proposal and checking in to see how it all went. I would recommend Concept Jewelry over and over again!!"
– Michelle R.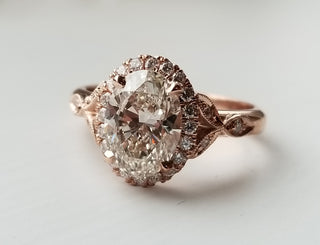 "Words cannot begin to express my thankfulness for the wonderful and beautiful ring that I had designed, and customized at Concept Jewelry Design. You will receive amazing customer service, integrity, professionalism, honesty, and beautiful craftsmanship. Carmen is amazingly talented, experienced, and will make you feel secure and confident in choosing her as your jewelry Designer. Carmen and Brittney were wonderful in helping me achieve my "dream" ring! I believe they are both rare gems!"
– Keri B.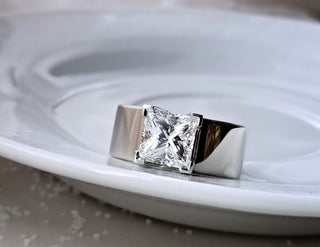 "I highly recommend Concept Jewelry and Carmen. I chose to go through Carmen for an engagement ring, and cannot say enough about her professionalism, and ability to deliver an outstanding product and experience. Carmen was extremely invested in getting to know exactly what we were looking for in a ring, and she kept me informed and updated during the entire process. The final product was more than we could have asked for, and my now fiancè is in love with her ring. Carmen's passion for what she does shines through in her customer service and her product. Thanks for making the experience and the ring so special, Carmen!"
– Colin J.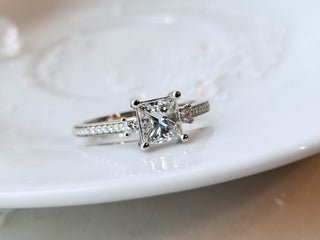 Before + After
Our client came to us with a vision and hope that we could create something extraordinary with an heirloom piece she had fallen out of love with. After an initial custom design appointment and approval of the new concept, her vision became reality. What was once an unloved piece that sat in her jewelry box untouched, became a trend setter and immediately moved our client to tears. See the transformation below of this gorgeous Classically Inspired Ruby and Diamond Ring.
To see the transformation, click the toggle below and drag from left to right.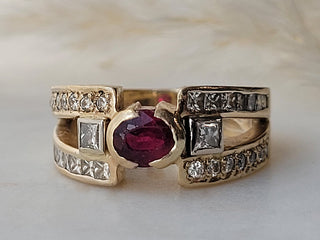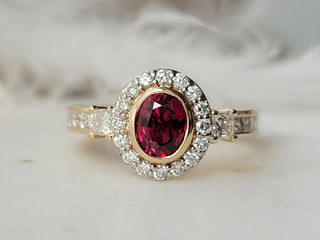 Ready to get Extraordinary?
Click the link below to fill out our Custom Inquiry Form and start your unique design journey today!