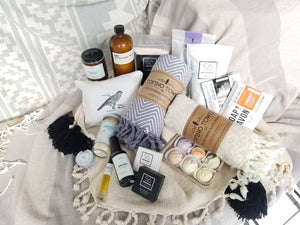 One of our favorite things to do is help someone put together a beautiful gift box filled with our curated items. 
Allowing us to choose for you gives you an opportunity to try something new we think is wonderful that you may not have chosen yourself. Or, simply let us know in the comment box if there are any specific type of products that you would like for us to include. 
We will happily include a personalized note of your choice as well, which can also be included in the "Gift Wrapping Notes" section on the checkout page.
*Due to the fact that we are a small brick and mortar style boutique, product quantities may vary. What this means is that items may be in the process of being sold at the same time you are making your online selection. If the item you have purchased is no longer in stock, we will contact you to either help you choose an alternative, place your selection on back order or refund your purchase entirely.
Please feel free to contact us directly for any product questions.
carmen@conceptjewelry.ca  or  780-458-4660