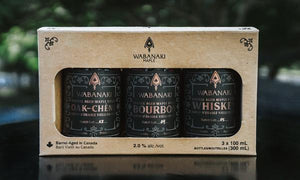 This package includes three (3) bottles (100ml) each of our signature brand barrel-aged maple syrup. Our flavours include our Bourbon, Whiskey and Toasted Oak. 
Barrel Aged Toasted Oak Maple Syrup:
A roasted thick flavour with honeyed overtones, this maple is painstakingly refined and aged to perfection, producing a syrup made unique with the time-honoured taste of lightly charred oak. 


Barrel Aged Whiskey Maple Syrup:
Enriched with the smoky flavours of wood and rye whiskey, this maple syrup takes sweetness to new heights with notes of caramel and vanilla.
Our maple soaks in a rustic smoky character that turns to creamy sweetness in your mouth.
A superb ingredient to glaze and marinade salmon, compliment a banana split or liven up breakfast pancakes.



Barrel Aged Bourbon Maple Syrup:
Our maple syrup is a sophisticated blend of pure natural flavours.
With a process that takes careful tending and time, our maple is slowly aged in only the finest award winning Kentucky Bourbon barrels for a golden buttery taste that's rich with a storied flavour.



*Due to the fact that we are a small brick and mortar style boutique, product quantities may vary. What this means is that items may be in the process of being sold at the same time you are making your online selection. If the item you have purchased is no longer in stock, we will contact you to either help you choose an alternative, place your selection on back order or refund your purchase entirely.
Please feel free to contact us directly for any product questions.
carmen@conceptjewelry.ca or 780-458-4660