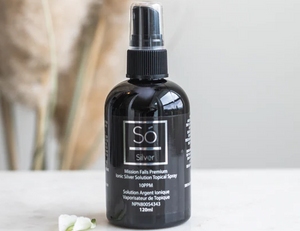 Só Silver - Ionic Silver Solution Spray for topical skin applications.  The Silver line of products are officially licensed Natural Health Products, recognized by Health Canada as having the therapeutic properties attributed to Silver. It is easily absorbed, perfectly safe, and almost 100% pure silver. Now in 10PPM!
120 ml / 4.06 oz
Medicinal Ingredients: 10PPM Silver Non-medicinal Ingredients: Purified Water Directions: Spray 1ml to 5ml of solution 3 to 4 times a day or as directed by a health care practitioner. 
Cautions: Keep out of reach of children. For external use only. Do not ingest. Avoid contact with eyes. Discontinue use and consult a health care practitioner if symptoms persist and/or worsen after 7 days. Avoid contact with mucous membranes. Consult a health care practitioner prior to use if you have advanced chronic liver disease. Overuse may decrease selenium levels. Do not use if you are pregnant or breastfeeding or if you are allergic/sensitive to silver. Store it in a cool, dark environment away from heat exposure or direct light.
SKU: SO-SILVER SPRAY
*Due to the fact that we are a small brick and mortar style boutique, product quantities may vary. What this means is that items may be in the process of being sold at the same time you are making your online selection. If the item you have purchased is no longer in stock, we will contact you to either help you choose an alternative, place your selection on back order or refund your purchase entirely.
Please feel free to contact us directly for any product questions.
carmen@conceptjewelry.ca    or     780-458-4660