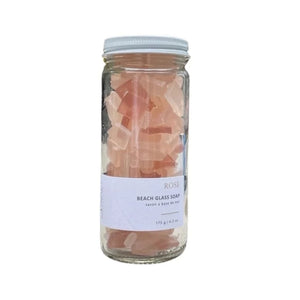 Sealuxe's beach glass is single-serve soap that is a perfect addition to any bathroom. The  Rose soap is scented with a delicate rose geranium that will leave your hands feeling soft and smelling divine.
Not only is this Beach Glass Soap a functional hand soap, but it's also a beautiful decorative piece that will add a touch of coastal charm to any sink or bathroom.
Ingredients: including moisturizing coconut oil, seaweed, and sustainable palm oil, rose geranium essential oil
How to use: Take one piece and wash up until it's used up and enjoy the citrus aromas.
Cruelty Free | Fair Trade | No Preservatives | 120 grams
*Due to the fact that we are a small brick and mortar style boutique, product quantities may vary. What this means is that items may be in the process of being sold at the same time you are making your online selection. If the item you have purchased is no longer in stock, we will contact you to either help you choose an alternative, place your selection on backorder or refund your purchase entirely.
Please feel free to contact us directly for any product questions.
carmen@conceptjewelry.ca  or  780-458-4660