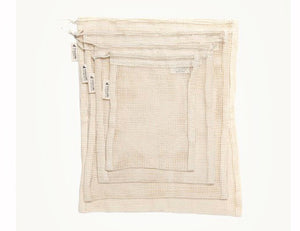 These mesh, multifunctional pure cotton eco bags eliminate the need for single-use plastics at the grocery store, gym, at home, and abroad. They're great for so much more than just tomatoes!
Four different sizes accommodate multiple uses including plastic-free storage, produce, for organization and for travel. Durable, reusable, washable, compact and easy to care for. A drawstring closure ensures what's inside the bag stays secure.
Machine-washable and 100% GOTS-certified organic, and they have a beautiful, natural look that will suit any home and style.
BENEFITS:
Being GOTS certified means the cotton in Pokoloko's Eco Bags meets the toughest organic textile standard which means a minimum of 95% organic fibre untreated and if coloured, must have been coloured using non-toxic dyes. It must also be produced with strict social and environmental standards that treat employees and the planet with deep respect.
MATERIALS:
100% GOTS-certified organic cotton


8X10, 10X12, 12X15, 14X18
Artisan Made | Carbon Neutral | Fair Trade | Ethically Sourced 
SKU INB-B5
*Due to the fact that we are a small brick and mortar style boutique, product quantities may vary. What this means is that items may be in the process of being sold at the same time you are making your online selection. If the item you have purchased is no longer in stock, we will contact you to either help you choose an alternative, place your selection on back order or refund your purchase entirely.
Please feel free to contact us directly for any product questions.
carmen@conceptjewelry.ca  or  780-458-4660