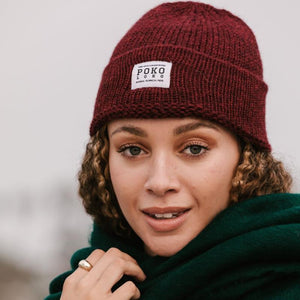 This is truly the perfect all-season beanie. Suitable for every head size, this is made of pure Peruvian alpaca - one of the highest performing technical fibres.
Fashioned from one of the world's softest, silkiest, and most luxuriant sustainable fibres, this artisan-made hat is stretchable but firm in its shape. Suitable for wet weather outings, alpaca has the ability to resist water and, even when damp, provide warmth. The hollow fibres of the alpaca fibre trap air in their core which provides enduring insulation.
BENEFITS
: 
100% Peruvian alpaca

Suitable for all

Made in Peru

Hypoallergenic and breathable
CARE:
Hand wash with mild soap, or machine wash on cold, delicate cycle.
Do not wring, scrunch, stretch, or twist.
Hang to dry or dry clean, do not dry in a dryer machine.
Groom with a light brush in direction of the fibre.
Can iron in the same direction on a low setting.
SKU AFH6
*Due to the fact that we are a small brick and mortar style boutique, product quantities may vary. What this means is that items may be in the process of being sold at the same time you are making your online selection. If the item you have purchased is no longer in stock, we will contact you to either help you choose an alternative, place your selection on back order or refund your purchase entirely.
Please feel free to contact us directly for any product questions.
carmen@conceptjewelry.ca  or  780-458-4660