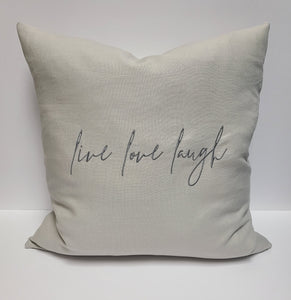 Live Love Laugh
We love this custom embroidered linen pillow in dove grey. 
The subtle combination of firmness, softness, and coolness makes this fabric a favorite. It will outlast cotton, enduring up to 20 yrs of use.
Linen pillow cover with feather pillow insert
CARE INSTRUCTIONS: 
Dry Clean, Steam, or Machine Wash. If machine-washed, iron while still damp with a hot iron. 
SKU:  LIVE LOVE LAUGH
*Due to the fact that we are a small brick and mortar style boutique, product quantities may vary. What this means is that items may be in the process of being sold at the same time you are making your online selection. If the item you have purchased is no longer in stock, we will contact you to either help you choose an alternative, place your selection on backorder or refund your purchase entirely.
Please feel free to contact us directly for any product questions.
carmen@conceptjewelry.ca    or     780-458-4660