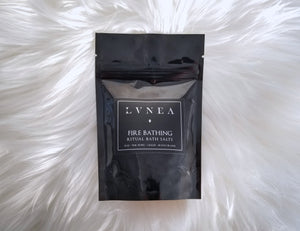 Element - Fire
Warming and stimulating bath soak. Works well to increase circulation when the body craves some heat. 
Featured Notes: rose, pink pepper, ginger, blood orange. 
Aspects: Floral, citrus, bright

Ingredients: Pink Himalayan salt crystals, Epsom salts, dendritic salt, calendula petals, rose petals, and an essential oil blend. 
Ritual: Add a handful or about 1/4 a cup to bath just prior to entering tub or while already inside. If you do not wish to have plant materials loose in your tub you may use the baths salts in a muslin bag or silk bag (included in our Ritual Bath Salts Set). No tub - try bath salts as a luxurious foot bath.
2oz - good for one to two baths. 
SKU :  SALTS-FIRE SM
*Due to the fact that we are a small brick and mortar style boutique, product quantities may vary. What this means is that items may be in the process of being sold at the same time you are making your online selection. If the item you have purchased is no longer in stock, we will contact you to either help you choose an alternative, place your selection on back order or refund your purchase entirely.
Please feel free to contact us directly for any product questions.
carmen@conceptjewelry.ca    or     780-458-4660