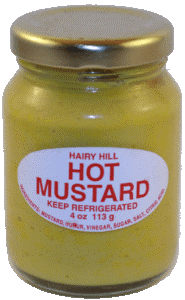 Hairy Hill Hot Mustard is a family recipe originating from the hamlet community of Hairy Hill, Alberta.
Spice up your next sandwich, add a little kick to your hot dogs and burgers, or try using it as an ingredient in a zesty salad dressing!
SKU: MUSTARD
INGREDIENTS | Mustard, Wheat Flour, Vinegar, Sugar, Salt, Citric Acid


113 g recyclable glass jar.
Keep refrigerated once open

*Due to the fact that we are a small brick and mortar style boutique, product quantities may vary. What this means is that items may be in the process of being sold at the same time you are making your online selection. If the item you have purchased is no longer in stock, we will contact you to either help you choose an alternative, place your selection on back order or refund your purchase entirely.
Please feel free to contact us directly for any product questions.
carmen@conceptjewelry.ca or 780-458-4660