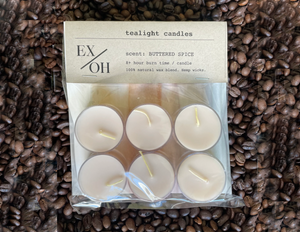 Ex Oh Candles tealights are made using their special blend wax and hemp wicks. They hand pour these babies into clear plastic cups, allowing the candle light to show through and to keep cool to touch!
Adobe Sand (Buttered Spice) - Remember those butterscotch candies you used to get from your grandma's candy dish? This smells exactly like them with a little touch of spice. This one is the colour of sand, a warm beige.
Every hand-poured candle never has parabens, sulfates, phthalates, and is always cruelty free.
8+ hour burn time
All candles are made with a custom natural blend of wax that holds the shape of the candle.
The unique hemp wicks allow for clean burns with fewer carbon emissions. They burn slower than other wicks (even other natural options like jute) with a lower temperature flame and little to no smoke. Your candles will last longer and the burning experience will be infinitely more pleasant.
SKU: TEALIGHT CANDLES
*Due to the fact that we are a small brick and mortar style boutique, product quantities may vary. What this means is that items may be in the process of being sold at the same time you are making your online selection. If the item you have purchased is no longer in stock, we will contact you to either help you choose an alternative, place your selection on back order or refund your purchase entirely.

Please feel free to contact us directly for any product questions.
carmen@conceptjewelry.ca  or  780-458-4660