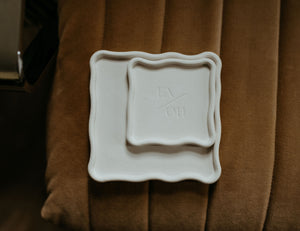 6" x 10" drip plates are ideal for 4" x 8" x 4" candles. 
All items are hand-made and therefore each item is unique and one of a kind. Due to the nature of the product each item will have slightly different characteristics, the small air bubbles and deviations are what make the items imperfectly perfect.
Each plate is hand-mixed and hand poured in small batches. They are sealed to protect from water and light staining. 

SKU : DRIP PLATE 6X10
*Due to the fact that we are a small brick and mortar style boutique, product quantities may vary. What this means is that items may be in the process of being sold at the same time you are making your online selection. If the item you have purchased is no longer in stock, we will contact you to either help you choose an alternative, place your selection on back order or refund your purchase entirely.
Please feel free to contact us directly for any product questions.
carmen@conceptjewelry.ca  or  780-458-4660