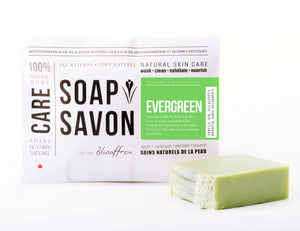 Blusaffron all natural Evergreen soap for hands & body, made with infused Mediterranean olive oil & exotic butters with spruce, fir, and eucalyptus scent profile. 
Infused with spirulina powder (for a calming, anti-inflamatory & balancing effect on the tissue), this amazing soap is all about the natural outdoor living. Cool & crisp, fresh like the mountain air.
Ideal for body and hand-washing, any of these bars keep skin moisturized and nourished. Your skin will feel luxuriously treated with love & care with these creamy bars of soap.
Used for hands or the entire body, any of these bars of soaps are unlike anything else you find on the market. Blusaffron doesn't just use oils & butters in their soaps. The main ingredient of their soaps is the Mediterranean Olive Oil, always infused & curated for weeks with natural, organic ingredients. Packed in homemade, totally unique, flat style paper bags, in 100% recyclable packaging, these bars of soap are a real gift for everyone's skin.
SKU :  SOAP BAR
HOW TO USE: Moisten soap and massage onto wet skin in a circular motion to create lather. Apply evenly using circular motion across your hands or body. Massage over wet skin for a minimum of 20 seconds. Rinse with clean water.

CARE: Don't leave the bar of soap sitting in water, once done. Use a soap dish that allows the bar of soap to dry between uses.
FULL INGREDIENTS:
Sodium Olivate (Olive Oil), Sodium Babassate (Babassu Butter), Sodium Shea Butterate (Shea Butter), Sodium Mango Butterate (Mango Butter), Sodium Kokumate (Kokum Butter), Sodium Cocoate (Coconut Oil)

*no artificial colours | no artificial fragrances | no parabens | no chemical preservatives | no synthetic additives | 100% all natural body care
*Due to the fact that we are a small brick and mortar style boutique, product quantities may vary. What this means is that items may be in the process of being sold at the same time you are making your online selection. If the item you have purchased is no longer in stock, we will contact you to either help you choose an alternative, place your selection on back order or refund your purchase entirely.
Please feel free to contact us directly for any product questions.
carmen@conceptjewelry.ca or 780-458-4660